Featuring

Today's analytical graph databases are taking organizations to another level by connecting their data, representing knowledge better, and obtaining answers to deeper questions in real-time. Graph Data Science offers a variety of tools at the beginner, intermediate and advanced levels that you can start leveraging today.
Queries

Algorithms

Feature Enrichment

Graph Embedding

Graph Neural Networks
Come join Dr. Victor Lee to learn how you can get started with graphs and develop the right mental model for thinking in and using graphs.
We'll include an introduction to TigerGraph's Graph For All Million Dollar Challenge. Data Scientists and Developers from around the world are invited to solve real world problems with graph analytics and have the chance to win prizes ranging from $20,000 to $250,000.
About the speaker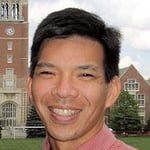 Victor Lee, PhD - VP of Machine Learning and AI at TigerGraph

Dr. Victor Lee is the VP of Machine Learning and AI at TigerGraph. He brings a strong academic background, decades of industry experience, and a commitment to quality and service. Victor was a circuit designer and technology transfer manager at Rambus, before returning to school for his computer science PhD, focusing on graph data mining. He received his BS in Electrical Engineering and Computer Science from UC Berkeley, MS in Electrical Engineering from Stanford University, and PhD in Computer Science from Kent State University. Before TigerGraph he was a visiting professor at John Carroll University.



Watch the webinar