In recent years, enterprises have invested heavily in AI and Deep Learning initiatives. The three stages of most AI implementations, data ingestion and preparation, model building and training, and inference in production, require Data Science, IT and Ops teams to work in new and sometimes confounding ways. Adding complexity, many organizations are choosing to build AI infrastructure from the ground up using containers and Kubernetes.

Join Data Science Salon as we host NVIDIA, RUN:AI and The AI Center for Value-Based Healthcare (at King's College London) who will share best practices for building an optimized AI infrastructure stack using NVIDIA GPUs, Kubernetes and Run:AI.

In the webinar, we will walk through an example of a well-architected AI Infrastructure stack and discuss how Kubernetes and advanced GPU scheduling can be used to maximize efficiency and speed up data science initiatives. We'll cover how one organization solved the orchestration challenges that enterprises face when they begin to scale.
"We've seen great improvements in speed of experimentation and GPU hardware utilization. Reducing time to results ensures we can ask and answer more critical questions about people's health and lives." - M. Jorge Cardoso, CTO, AI Centre for Value-Based Healthcare
Watch the webinar
About the speakers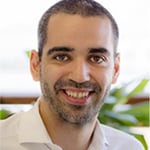 Professor. M. Jorge Cardoso, Associate Professor & Senior Lecturer, King's College London & CTO, AI Centre for Value-Based Healthcare
The London Medical Imaging & Artificial Intelligence Centre for Value Based Healthcare is a consortium of academic, healthcare and industry partners, led by King's College London. It uses medical images and electronic healthcare data held by the UK National Health Service to train sophisticated computer vision and natural-language processing deep learning algorithms.
Michael Balint, Sr. Product Manager, NVIDIA
NVIDIA's (NASDAQ: NVDA) invention of the GPU in 1999 sparked the growth of the PC gaming market and has redefined modern computer graphics, high performance computing and artificial intelligence. The company's pioneering work in accelerated computing and AI is reshaping trillion-dollar industries, such as transportation, healthcare and manufacturing, and fueling the growth of many others.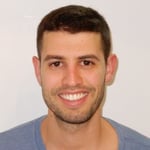 Omri Geller is CEO and co-founder of Run:AI
Run:AI provides a cloud-native computer resource management platform for the AI era. With Run:AI, data scientists get access to all of the pooled compute power they need to accelerate AI experimentation - whether on-premises or cloud. The company's Kubernetes-based platform provides IT and MLOps with real-time visibility and control over scheduling and dynamic provisioning of GPUs – and gains of more than 2X in utilization of existing infrastructure.